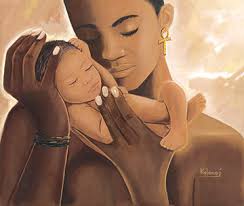 Black Women do not care about their children?
Black Women do not care about their children?
August 10, 2017
There is a question mark there because how can someone make such a generalization on a whole group of women based on personal opinions?
I came across a video on Facebook that bothered me. I did not take offense to it because it does not directly apply to me but my people: BLACK WOMEN. This man Tommy Sotomayor who is known for his YouTube channel where he gives his opinions and views on the black community is one I deem narcissistic and bitter over what he has probably gone through in his own life but that is just MY opinion. In his 10 minute video, he bases his premise on "Black women do not care about their children" Here is some of his views on the topic.
1st reason he states that black women do not care about their children is because they are had by men they do not like.
2nd black women continue to have children out of wedlock
3rd Black women out of all the nationalities of women will have children at the lowest financial state
The biggest thing a woman could do for their children is CHOOSE who will be the father to that child.
Black women, more than any other woman on earth, would make ANY man a father and most of the time these men does not even want to be fathers.
Instead of moving out of the terrible environments they are in, they choose to stay, repeating the same cycle of children out of wedlock, gangs, violence, poverty, etc.
The video can be seen here.
Although he presents some good points I do not agree with the generalization of an entire race of women. He does not give hard facts nor statistics but opinions based on what he's seen.
I do not agree with the premise that "Black women do not care about their children" I stand on the premise that WOMEN need to take responsibility for the decisions that we make.
I am a single mother. My children's father is in their lives although he does not make some of the best decisions in life. That does not make me nor him bad parents.
I AGREE THAT CHILDREN ARE SUPPOSED TO COME FIRST.
The best thing to do is ensure they do not repeat the same cycles we have gone through. To believe that black women do not care about their children because of their socioeconomic status is blatantly wrong! Generational cycles, education or lack thereof, socioeconomic status, reliance of government assistance, and fatherless homes plague more communities than the black community.
The most important thing to do is FOCUS ON THE CHILD AND HOW YOU CAN MAKE THEIR LIVES BETTER THAN YOURS. But that statement applies to ALL WOMEN not just black women. He has a point in stating why continue to have children out of wedlock when you know the father may not want to be a father, the father is not ready, both parents aren't financially stable or in the best environment which is a true statement. However, that is where both women and men take responsibility for their actions and adjust accordingly. But since we are talking about women, Women once you know what obstacles you're up against, it is up to you to make the necessary changes to ensure you and your child/children's well-being.
It may be easier said than done but once you have children there is no time for excuses. There have been plenty of single mothers that are successful with successful children. I know personally of a woman with 5 kids and 4 different fathers for the children. She had a steady job as a teacher. Her and her children have been homeless, sleeping on park benches, having to walk and used public transportation to get to where she needed to go. Her children did not have the best clothes but guess what? They are all successful now! Because of HER: THE SINGLE BLACK MOTHER.  One is a locally known MUA, hair and apparel stylist. One child is an INTERNATIONAL gospel singer who has been recognized all over the world. One child is a preschool teacher and one is still pursuing his high school diploma. One is currently incarcerated but he knows the truth, recognizes the bad decisions he's made and is pursuing to become a better person.
He states "How could you love your children when you continue to have them at the rate that you have them by the men that you have them by, in the situation that you have them in. He says that black women choose to have a child unilaterally. Black women choose to have children 100% by themselves because the man did not have the chance to tell them to take the morning after pill or get an abortion.
What kind of statement is that to make about a woman? Everyone does not believe in abortion. Why is the black woman the only one to blame when two people laid down, decided to have unprotected sex, and because the man chooses not to be a father to the child that the woman is to blame for pursuing the pregnancy in the first place? Again everyone does not believe murdering fetuses.
My problem with his accusation is that it does not apply to all black women and instead of using your platform to bring your own people down, why not use it to educate, inform, and advocate for these single mothers who need help rather than tearing them down.
Ideally one would love to first have love, then marriage, then the baby in the baby carriage. That is how I've always envisioned my life to go but I did not. And those are decisions that I have to live with for the rest of my life. But I have not fallen victim to my circumstances. I've recognized what I needed to do and am DOING IT!
It is not easy to break generational cycles. But we can recognize how we do not want our children to be raised and try our best to give them the best of us!
I personally feel that black women are the most hated group of women in the U.S and no that is not a hard fact but my personal opinion by what I view in the media, by men I've come across, and the stereotypical perception that we are all ghetto, argumentative, too strong willed, hoes, gold diggers, and mothers of fatherless children. That is a whole new topic that will be discussed in the future but I am just going to take this time to recognize our BEAUTIFUL, BRILLIANT, AND STRONG BLACK WOMEN!
BLACK WOMEN I KNOW WE HAVE MADE SOME MISTAKES BUT WE WILL NOT FALL VICTIM TO THEM.
BLACK WOMEN ARE STRONG, INDEPENDENT, BEAUTIFUL AND BRILLIANT.
BLACK WOMEN WE ARE QUEENS.
EVEN WHEN MOST OF OUR MEN CHOOSE TO DATE OUTISIDE OF US NOT BECAUSE OF US PEROSNALLY BUT BECAUSE OF A STEREOTYPICAL PERCEPTION PEOPLE HAVE ON US WE STILL WALK WITH OUR HEADS HIGH!
EVEN WHEN SLAVE MASTERS RAPED, BEAT, AND ABUSED OUR ANCESTORS, EMASUCUALTED OUR MEN WITH PUBLIC HUMILIATION OF WHIPPINGS AND LYNCHINGS, EVEN WHEN WE HAD TO CLEAN THE SLAVE MASTERS HOME, BREASTFEED THEIR BABIES AND NOT PROVIDE ENOUGH NOURISHMENT FOR OUR OWN, WE STILL HELD OUR FAMILY DOWN!
EVEN IF OUR CHILD'S/CHILDREN'S FATHER IS NOT IN THE HOME WE TAKE CARE OF OUR CHILDREN BY PUTTING A ROOF OVER THEIR HEADS, FOOD ON THEIR TABLE, CLOTHES ON THEIR BACKS EVEN IF IT MEANS TEMPORARILY USING GOVERNMENT ASSISTANCE TO DO SO!
WHEN OUR BABIES OUR BEING MURDERED IN THESE STREETS, WHEN THE SYSTEM DECIDES TO INCARECERATE OUR MEN FOR CRIMES INEQUIVALENT TO WORSE CRIMES OF OTHER RACES, EVEN WHEN THERE IS BLACK ON BLACK CRIME WHO IS IN THE STREETS MARCHING FOR JUSTICE?? BLACK WOMEN!
NO ONE WILL HOLD A BLACK WOMAN DOWN! NOR BLATANTLY DISRESPECT THEM! NOT WHILE I'M STILL BREATHING!
I'm not going to sit here and say that ALL black women do right by their kids because in all actuality some do not BUT I will not put them down I will try my best to educate, inform and advocate for my people! I encourage everyone to spread love rather than hate, dislike, and judgment because where there is one finger pointed at someone else there is four more pointed back at you.
Forever a Lādē
Tamara L. Wallace
---
3 comments